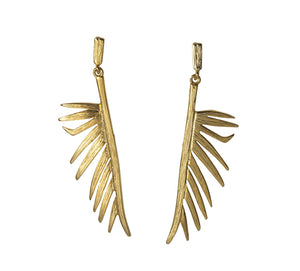 Split Palmetto Drop Earrings.18kt gold plated pewter. Two-piece earring so there is movement but your piercing is always covered!
Surgical Steel Post. 
2 1/2" Total Length. 
Inspired by our Goldbug's home, South Carolina's famous tree, and her flag. This collection features an abstract nod to our home, with sparkling moons, palmetto fronds, and palmetto textures. 
  MADE IN THE USA
Care: Our bugs can't swim! To keep your bugs shining their brightest, please don't swim, sleep, or shower in them.