Pups, Pups, and more PUPS!
Customize your pup today! Or select from our ready to go breeds.
shop here!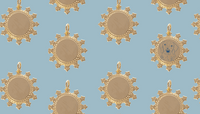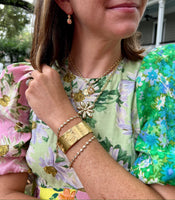 Twiggy Collection
Feeling fun & funky? Our latest collection has landed- the Twiggy Collection! Large daisys, pearls, and crystals! What more could you want?!
Shop Twiggy
Hold My Hand Drops - Now Available!
One of my favorite adventures of the year is the Tucson gem show. We trek out to the desert and walk through tent after tent of booths to find just the right thing! My mom says when they used to go, they would dig through the trunks of people's cars in motel parking lots drinking margaritas, and people sold crazy things like asteroids and fossils. The show has progressed a little, they still serve margaritas in the motel parking lots, but it's all about the thrill of the hunt that brings me back each year! It starts with a doodle…I drew a little bug with arms as prongs and thought it was a really fun way to incorporate some gemstones into our wild world of goldbug.  So Aimee and I searched the show and found each of these stone combinations and created our earrings. If you flip the earring around, you'll see why they're called Hold My Hand. Our old pal the goldbug is holding the little stones! We hope you enjoy these! xo, Mini
Shop NOW!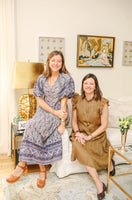 SISTER ACT
Mini Hay Avant and Kathleen Hay Hagood are the sister act behind The Goldbug Collection. They are the 4th generation at their family jewelry store, Croghan's Jewel Box in Charleston, South Carolina. Together with their team, they send bug love all over the country! 
Photo by: Anne Rhett Photography